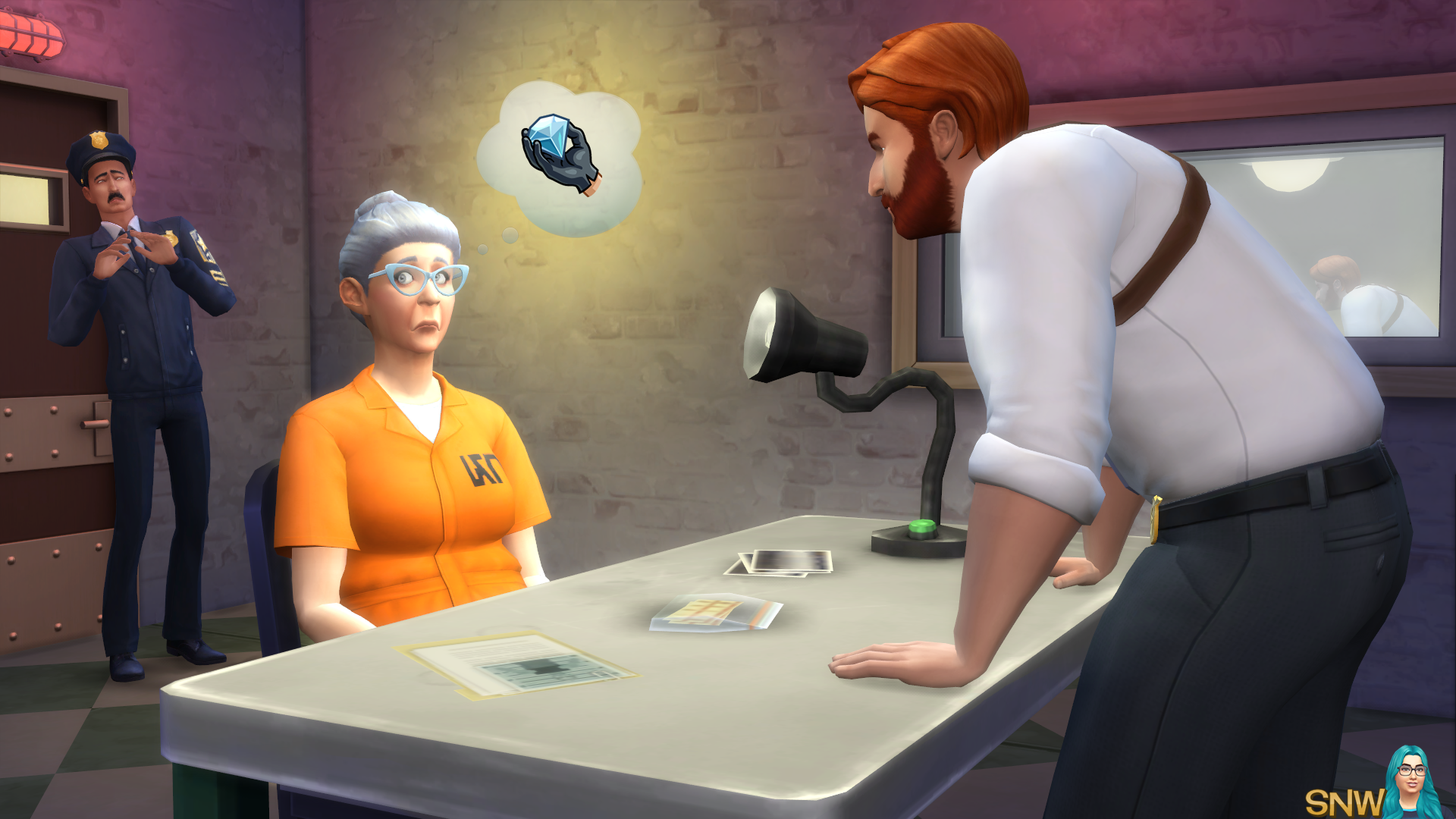 Eerder vandaag had ik het genoegen een conference call bij te wonen met veel andere fansites, creators, en YouTubers uit de Sims community. Rachel Franklin en Ryan Vaughan kondigden hierin officieel het eerste uitbreidingspakket voor De Sims 4 aan, namelijk De Sims 4: Aan het Werk!
Deze uitbreiding is een geweldige mix tussen Gaan het Maken en Ambities, maar dan voor De Sims 4!
Er zitten drie nieuwe carrières in; Dokter, Rechercheur, en Wetenschapper.
Elke nieuwe carrière heeft een eigen locatie. Dus als dokter werk je in het ziekenhuis. En als rechercheur zul je in het politiebureau te vinden zijn. Je kunt je Sims nu aan het werk zien, en ook de controle nemen.
En elke carrière heeft ook een uniek nieuw object. Zoals de operatietafel. En een ondervragingstafel!

Ik vraag me af wat Gladys heeft uitgevreten? 
Voor de eerste keer in de Sims geschiedenis kunnen je Sims nu als dokter ook babies ter wereld brengen! Ik kan niet wachten om dat in mijn eigen spel te zien!
Als rechercheur ga je clues zoeken en grote zaken oplossen. CSI: De Sims. XD
De Wetenschapperscarrière is ook enorm spannend. Ryan vertelde ons dat ze het coolste object ooit hebben gemaakt voor deze carrière. En het is een mix tussen een 3D printer en J.A.R.V.I.S uit Iron Man. Ik gok dat we daar binnenkort wel meer over gaan horen. Gaat jouw Sim goed doen, of juist chaos aanrichten?
Niet alleen zijn er drie nieuwe carrières, maar je Sims kunnen nu ook hun eigen bedrijven hebben! Wil je een kledingwinkel? Je kunt je eigen kledingwinkel hebben. Wil je een kunstgalerij? Dat kan! Wil je misschien een bakkerij beginnen? Het is allemaal mogelijk. Je kunt zo'n beetje alles verkopen (uit de catalogus dan, ik gok dat we geen Sims kunnen verkopen
)
Er zijn twee nieuwe vaardigheden die je ook goed kunt gebruiken binnen de eigen bedrijven; de Fotografievaardigheid en de Bakvaardigheid.
Meer informatie en screenshots over De Sims 4: Aan het Werk zal de komende weken bekend worden. Hou nog even vol mensen! Het uitbreidingspakket zal in april 2015 uitkomen.
Wat betreft de conference call: Bedankt EA/Sims team dat ik erbij mocht zijn. Het is wel wat hectisch met zoveel mensen in een gesprek. Maar oh zo spannend! Ik ben blij dat we een kans hebben gekregen om direct feedback te kunnen geven.
Als je dit leest en graag feedback wilt geven of vragen wilt stellen aan het Sims team (wees wel beleefd) dan kun je me gerust een tweet sturen, of iets op onze Facebook pagina posten. Ik geef je bericht dan graag door.